Memorial Page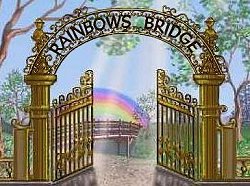 The Rainbow Bridge


inspired by a Norse legend


By the edge of a woods, at the foot of a hill,
Is a lush, green meadow where time stands still.
Where the friends of man and woman do run,
When their time on earth is over and done.

For here, between this world and the next,
Is a place where each beloved creature finds rest.
On this golden land, they wait and they play,
Till the Rainbow Bridge they cross over one day.

No more do they suffer, in pain or in sadness,
For here they are whole, their lives filled with gladness.
Their limbs are restored, their health renewed,
Their bodies have healed, with strength imbued.

They romp through the grass, without even a care,
Until one day they start, and sniff at the air.
All ears prick forward, eyes dart front and back,
Then all of a sudden, one breaks from the pack.

For just at that instant, their eyes have met;
Together again, both person and pet.
So they run to each other, these friends from long past,
The time of their parting is over at last.

The sadness they felt while they were apart,
Has turned into joy once more in each heart.
They embrace with a love that will last forever,
And then, side-by-side, they cross over. together.




This is my first baby girl! Her full name was Tawny Lee Graham! She was born April 18,1988 and died April 23, 2002. She helped me alot threw my teenager years, when I needed somebody the most! Anytime I needed somebody to listen to me she was there, and she did listen to me. She is dearly missed by her mommy! Rest in peace my baby girl! Mommy will see you again someday!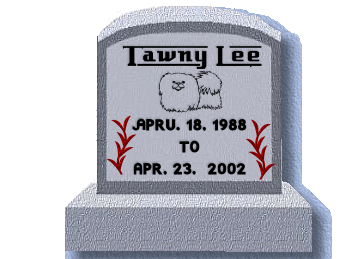 TAWNY LEE GRAHAM!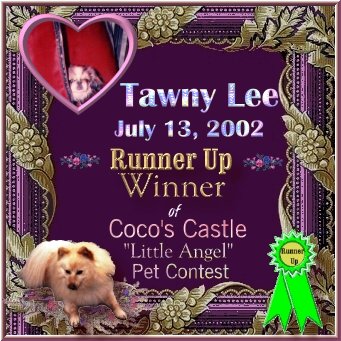 RUNNER UP IN THE RAINBOW BRIDGE CONTEST!
This is Tur our turtle. Our son named him I guess this was his way of saying turtle.
He met with a terrible accident with my two year old. He was loved very much. We got him back in 1998 and he passed last night May 4, 2003!
We will miss you dearly Tur.
TURTLE!
MY ENTERTAINMENT BOY!
This is my Toby baby boy! He left us suddenly! I as surprised and didn't understand why. He was a healthy little boy. He was so loving and so much loved in my home. I guess GOD needed him to help keep the rest of the peke's in there place up there.The short time you where with me I loved you so very much. May you rest in peace little boy!
Mommy loves and misses you dearly!
HUNTER GOT DAPPLES FOR HIS 5TH BIRTHDAY. HE WAS A SHELTLEN PONY. THE BOYS LOVED HIM VERY MUCH AS SO DO WE. HE FOUGHT COLIC FOR TWO DAYS, IT WAS A LOOSING BATTLE. WE MISS YOU DEARLY AND MISS SEEING YOU GRAZING IN THE PASTURE. WE MISS WAKING UP AND GOING OUTSIDE AND HEARING YOU SAY GOOD MORNING. REST IN PEACE SWEET BOY!
DAPPLES
DAPPLES PASSED ON JUNE 15, 2007!
HAM MAN
HAM PASSED AWAY ON APRIL 29, 2008
REST IN PEACE MY SPECIAL BOY
07/4/1999- 6/2/2009
Mr. chin Chin Lee Graham
July 4, 1999 - July 21, 2009